PDFBear Guide: How You Can Elevate The Security Features Of Your PDF Files
Having a secure line of media for your important contents in your documents is one of the most important things you should prioritize. In today's age, Portable Document Format ranks among the most trusted document formats you can use. However, the security features that it offers are still vulnerable.
Hence, the reason for using an online PDF converter tool to pump up the security level of your PDF file. There is a long list of online PDF converter tools that you may use on the internet. This article will introduce to you one of the most reliable online PDF converter tools that can help you have a much more secure line for your documents.
Things You Should Know About PDFBear
PDFBear is the online PDF converter tool you need to have a secure line of documents for your important contents. The function tool called "Protect PDF" will allow you to put an encrypted password to your PDF file so that you can choose the specific individuals that can have access to your documents.
There are also a lot of other tools for your documents that are recommended for you to explore to have a much more efficient way of handling your online documents. To give you some examples is PDF to Word, Unlock PDF, Merge PDF, Split PDF, and many more tools for your online documents.
Their website is built to have a simple interface where most individuals who do not have any experience converting their documents can easily manage to do so. You can convert your online documents by merely following the comprehensive instructions that can be seen each time you choose a function or a tool.
To give you an idea of how you can start off using the online tool you have chosen. Here is a comprehensive instruction on the online tool Protect PDF and how you can start converting your documents into a betterment.
The Online Tool Protect PDF
Protect PDF will allow you to put your preferred password to your PDF file to be more secure than before. All you need to do is follow this series of steps that will lead you to have your online documents have a better security feature. Here is an example of the detailed Step by step tutorial on using the online tool Protect PDF.
1. The First Step is to upload the online documents that you want to put an encrypted password. You can choose how you want to upload your online documents into the system of PDFBear. You can select or click on the online document that you want to upload or use their new system, allowing you to drag the files and drop them into their allotted box.
2. The Second Step is to type in the password that you prefer into your online document. Having a long password that consists of a combination of big and small letters and series of numbers can help your documents to be more secure and is one way to make it harder to be hacked.
3. The Third Step is to ensure that you remember the encrypted password you have typed in the Second Step. It is also recommended to double-check the password if you have typed in the right password that you want. If everything is in line with your satisfaction, you can now proceed to the fourth and last Step. 
4. The fourth and last Step is to transfer the newly converted PDF file into your desired destination. An option you can choose is moving your document into your mobile device, desktop, or online storage. Online storage is recommended if you want to save up some space on your device or desktop.
The Online Tool Unlock PDF
If you are wondering if you can remove an online document that is encrypted with a password, PDFBear is also offering an online tool that will help you do that. The online tool "Unlock PDF" will allow you to remove the password of a PDF file. However, you can only use this online tool if you are already knowledgeable about the PDF file's current password.
This is only for individuals who want to remove their passwords to access their documents more conveniently. Hence, the flexibility that the platform of PDFbear offers to the public.
Takeaway
It is advantageous to know the in and out of the security you can have when handling your PDF files. This can be a significant edge to keep your contents safe when handling your online documents. Make sure to check out the website today and don't miss out on this great feature.
Why Is the Roku Screen Black on Samsung TV?
Roku is a streaming service that allows users to browse and watch thousands of programs on demand. You need a Roku streaming device and an internet connection to binge-watch your favorite show. 
Roku is one of the most popular streaming services among other names such as Google Chromecast, Amazon FireTV, and Apple TV. 
Most of the time, users never face any issues watching content via Roku streaming, given that all the devices and the internet are working properly. However, users often find their Samsung TV screen turning black which can result from a software or hardware error. 
The article explains why your Samsung TV screen turns black when streaming Roku content. 
Why Black Screen?
The reason could be as simple as a loose cable or as complex as a faulty TV screen which is hard to repair. Sometimes the TV or the Roku device itself is at fault. Identifying what's causing the problem greatly affects how you troubleshoot the situation. 
Check if your Samsung TV is working fine. If alternate TV channels work perfectly, check if the Roku shows a black screen. In case your TV screen is working fine and you are able to watch all other channels, you need to fix your Roku streaming device. 
When Your Roku Screen Goes Black
So, the problem lies with your Roku streaming device. Right? In that scenario, you can follow the troubleshooting methods given below. 
If you are watching Roku on your computer and a similar display error appears, check the display mode before trying any troubleshooting methods. Sometimes, dark mode is enabled which might be causing display issues. 
Learning how to turn on dark mode on mac desktops or disabling dark mode on a Windows computer can help fix screen issues instantly. 
Start with these methods in sequence as the first few are the simplest and are most effective. We will move on to complex troubleshooting tips to help you fix the persisting issue completely even if you are an amateur user. 
Unplug the power cable to simply reset the Roku streaming device and fix the problem at hand. Restarting the device is the quickest way to resolve the problem when you can't access the menus As Roku is not displaying anything on your TV screen. 
Wait for a few seconds and then plug the device back. For Roku TV, turn the system off and then on to fix the black screen problem. 
If restart is not sufficient enough to fix the issue, inspect the cables on the rear end of the TV to ensure everything is in place. A loose cable can be the reason behind the black display that's interrupting your binge-watching experience. 
Press all the cables into the port, especially the video port. Make sure to do it firmly to avoid any severe damage. Also, ensure to connect the power cable via the adapter you receive with Roku.
Connect the Right Input Device
When you are inserting cables into the ports, make sure to connect the right cables to their respective ports. Roku connects to the video port, so keep that in mind. Your Samsung TV will have multiple ports, based on the model you have.  
Switch between different HDMI options to check which one works with Roku. After switching the option, wait for at least 5 seconds to allow Roku to display content on the TV screen. 
If you are able to listen to sound on Roku but no image appears on the screen, the possibilities are you need to tweak several settings. Before you change or modify the resolution settings, keep note of the current settings so that you can reset if required. 
First of all, select Auto Detect if not selected yet. This could be the fastest solution to screen blackout issues. Alternatively, set the resolution to 720p and check if that works. 
Check Internet Connection
When you see the black screen on Roku streaming; however the menu items are visible, ensure that the internet is working properly. More often, unstable WiFi or insufficient bandwidth are the reasons that obstruct your live streaming experience. 
In that case, you can reset your modem and router devices. Alternatively, try to connect an Ethernet cable to enable a faster internet connection.  
Reinstall Apps and Programs 
Sometimes, the Roku screen appears black when you attempt to view a certain program or channel. Switch to different programs to detect if the problem is app-specific. Ensure other apps and programs are running appropriately.  
Identify apps that are not working properly on Roku and leading to black screen errors. Delete that app and then reinstall the app to check if it is displaying the content as expected. 
The above-mentioned troubleshooting tips will enable you to fix screen-related issues while streaming Roku content on Samsung TV. Start with the simple troubleshooting methods and move on to the complicated solutions only if required. 
Resetting Roku to factory settings can help, but be careful as you might lose access to saved apps and programs. You will be required to reinstall channels and your favorite content. 
google, chromebook, tijd om te switchen, switch naar chromebook, groei je bedrijf met google
Google, Chromebook, tijd om te switchen, switch naar Chromebook, groei je bedrijf met Google
Google Chromebooks zijn een geweldige manier om je bedrijf te laten groeien. Ze zijn betaalbaar, gemakkelijk te gebruiken en bevatten alle tools die je nodig hebt om je werk te doen.
Hier zijn een paar redenen waarom je zou moeten overstappen op een Chromebook:
Betaalbaar: Chromebooks zijn een van de meest betaalbare laptops op de markt. Je kunt een Chromebook al krijgen voor minder dan $300.
Gemakkelijk te gebruiken: Chromebooks zijn ontworpen om gemakkelijk te gebruiken te zijn. Ze hebben een eenvoudige interface die iedereen kan begrijpen, zelfs als je geen tech-expert bent.
Bevatten alle tools die je nodig hebt: Chromebooks bevatten alle tools die je nodig hebt om je werk te doen, zoals Google Docs, Sheets en Slides. Je kunt ook toegang krijgen tot andere Google-apps, zoals Gmail, Google Drive en Google Calendar.
Als je op zoek bent naar een betaalbare, gemakkelijk te gebruiken en krachtige laptop, dan is een Chromebook de perfecte keuze voor je bedrijf.
Hier zijn een paar extra voordelen van het gebruik van een Chromebook voor je bedrijf:
Ze zijn beveiligd: Chromebooks zijn ontworpen om beveiligd te zijn. Ze hebben een ingebouwde virusscanner en ze worden regelmatig bijgewerkt met nieuwe beveiligingsupdates.
Ze zijn duurzaam: Chromebooks zijn gemaakt van duurzame materialen en ze zijn bestand tegen schokken en vallen.
Ze zijn milieuvriendelijk: Chromebooks gebruiken minder energie dan traditionele laptops, waardoor ze beter zijn voor het milieu.
Als je op zoek bent naar een laptop die je bedrijf kan helpen groeien, dan is een Chromebook de perfecte keuze voor je. Ze zijn betaalbaar, gemakkelijk te gebruiken, krachtig, beveiligd, duurzaam en milieuvriendelijk. Wat wil je nog meer?
How to Choose the Right Components for an Industrial PC
If you are building or configuring an industrial PC, a lot of thought must go into what parts to choose. Every industrial PC is made for specific, unique purposes, meaning there is no correct answer when choosing the right parts. Instead, consider how to use the industrial PC and the best pieces to fit that purpose. For example, an industrial PC used for transportation may look very different from one used in manufacturing.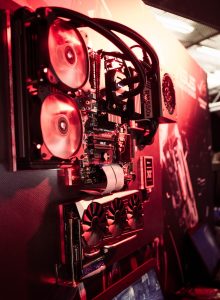 What is an Industrial PC?
An industrial PC is a more robust, rugged version of a standard PC, built specifically to withstand industrial environments. Industrial PCs often have to work in extreme conditions, such as high vibrations and frequent temperature changes. However, there is still plenty of crossover between an industrial and standard PC; industrial PCs still have all the parts you'd expect, such as a storage unit, an input unit, an output unit, RAM, GPU, and a CPU.
Thanks to their robust nature, industrial PCs are used by various industries, including food processing, automotive, medical, manufacturing, and transportation.  
What to Consider When Shopping for Industrial PC Components
Ready to start building an industrial PC? Here is what to think about when shopping for the components.
Storage
First, consider how much storage you will need. Standard PCs often use solid-state drives or hard disk drives, but for an industrial PC, you will likely need to invest in other components like the M.2 SDD or NVMe protocol SSD, as these will accommodate industrial-level storage needs.
Environmental Conditions
Industrial PCs are built to withstand extreme environmental conditions. When picking the components, consider the exact conditions of where the PC will be stationed. Will there be a lot of vibration? Will the PC have to stay powered through extraordinarily high or low temperatures? Considering these environmental conditions is extremely important, as it means you will build a PC that's fit for purpose. Suppliers of industrial and embedded computers and components specific to industrial environments, such as things-embedded.com, cater to a wide array of industries and applications.  
Processing Power
Next, consider how much horsepower you will need. You'll likely require a high-power CPU that can handle multiple complex functions. To determine precisely how much power you need, consider what applications you will run on the industrial PC.
Memory Capacity
It's important to build an industrial PC with enough memory to meet requirements. For perspective, standard base computers tend to have around 4-8GB of RAM, but your industrial PC will likely need 64GB or higher. Of course, you can always separately invest in a memory RAM upgrade if you need more.
Network Connections
How will your industrial PC connect to the internet? That's an important consideration when purchasing PC components. Of course, Wi-Fi is an option, but it usually provides a low bandwidth, low power, and interference, so it is not really the best option for industrial PCs. On the other hand, wired ethernet provides higher bandwidth and more reliability (but is bulky). You also have the options of LoRa and Cellular connections.
Overall Quality
Finally, always consider the quality of the components. Industrial PCs must perform reliably to meet demand, so you want durable, powerful features that can handle complex tasks. So, do your research on the best components and find a quality supplier that will provide the PC components for a reliable, durable industrial PC.